The A B & C's of Estate Planning
A. = My Definition of Estate Planning
"I want to control my property while I am alive, take care of myself and my loved ones if I become disabled, and give what I have to whom I want, in the manner I want and when I want, and, if possible, I want to save on professional fees, court costs and taxes."
I will explain my definition of Estate Planning and work with you to apply it to your particular personal and family situation to accomplish your hopes, dreams and concerns.
B. = The Estate Planning Pyramid
I will custom-design your Estate Plan with the Planning Pyramid in mind paying particular emphasis to building a strong foundation based on your particular hopes, dreams and concerns.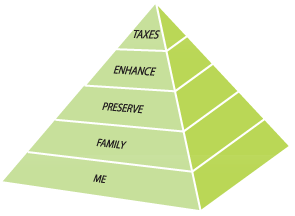 C. = Minimize Taxes
No one likes to pay taxes, as Judge Learned Hand stated back in 1934:
"We agree with the board and the taxpayer that a transaction, otherwise within an exception of the tax law, does not lose its immunity, because it is actuated by a desire to avoid, or, if one choose, to evade, taxation. Any one may so arrange his affairs that his taxes shall be as low as possible; he is not bound to choose that pattern which will best pay the Treasury; there is not even a patriotic duty to increase one's taxes."
Hellvering v. Gregory 69 F 2d 809, March 19, 1934
I will explain your options to you so you can design an Estate Plan that minimizes (or perhaps eliminates) taxes.

A + B + C = Peace of Mind
Proper Estate Planning is one of the best investments you will ever make!
With the A, B and C's of Estate Planning as our compass, I will guide you through the world of wills, trusts and powers of attorneys in plain and understandable English. I design Estate Plans around the concept of keeping you in control of your personal and financial affairs during your life, upon incapacity and at death. Each estate plan is designed unique to you and your family's unique needs, concerns and dreams.
Our estate planning services include:
Living Trusts

Wills

Powers of Attorney

Advance Health Directives (Medical & End-of-Life)

Incapacity Planning

Irrevocable Trusts

Beneficiary Designations